CMD's New Year Message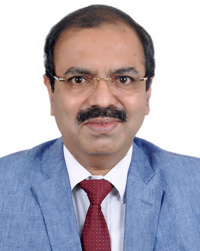 1st January 2020
Dear All,
One more year completed and we are ready to welcome New Year 2020 with lot of hope.
Your company did very well in 2018-19 and had an eventful year 2019. Your company is in cusp of becoming a true Multi Modal Logistics Solution Provider with launching of several new initiatives in Coastal Shipping, Distribution Logistics, Cold Chain Logistics, First Mile Last Mile Connectivity and IT initiatives to support Business Growth.
I am happy to share with you that your company is the leanest organisation providing efficient logistic solution and proud of the staff for gaining Customer confidence and making CONCOR as the first choice for all their logistic needs.
I am very hopeful we will not only be the leading logistic solution provider but the nation's logistic solutions provider. Let us all come together to make our company a great company in the field of logistic with the motto - कॉनकॉर का साथ सबका विकास
With best wishes,
V. Kalyana Rama
Chairman & Managing Director