Employee Welfare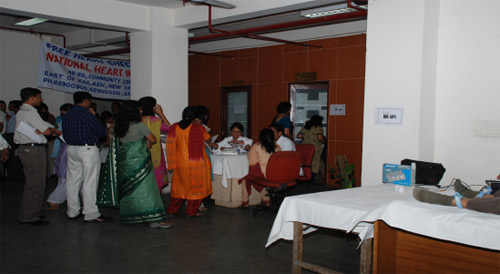 CONCOR believes that satisfied employees contribute to the development and growth of the organization. The 'Fair Wage' concept adopted by CONCOR provides the employee with a standard of life furnishing him/her the necessities of life plus certain amenities considered necessary for his/her well-being determined in terms of his/her position in a particular society.
CONCOR offers various perks and benefits (apart from statutory benefits) to its employees. These are offered in the form of option to the employees to choose from a mix of perks and allowances available subject to a maximum ceiling. In addition to allowances and benefits covered in the cafeteria approach additional perks in the form of Telephone Reimbursement, Residential Accommodation, Telephone Instrument / Cell Phone, Marriage Gift, House Building Advance, Vehicle Advance, Computer Advance, Multipurpose Advance, Periodical Health Check-ups, Group Insurance Schemes and housing facilities for the Employees are provided in order to raise the level of employee satisfaction and loyalty to CONCOR.
CONCOR HR policies are aimed at maintaining 'Quality of Work Life (QWL)' for the employees and strive towards becoming the Best Place to Work among the global corporate. Work environment at CONCOR is conducive to high productivity and high satisfaction among the employees.
To provide convenient accommodation to the employees especially those working in remote areas, CONCOR has developed Housing Colonies in various parts of the country. The main locations where housing colonies are developed include New Delhi, Dadri, Mumbai, Chennai, Bangalore, and Kolkata.
House Building Advance facility is provided as a welfare measure to assist employees to own house at the intended place of residence.
Loan is provided for the higher education of children to CONCOR Employees under CONCOR Children Higher Education Scheme.
In order to elevate the level of professional know-how and expertise of Executives professional body membership reimbursement is also provided.
To connect CONCOR as a family, CONCOR Women Welfare Organization (CWWO) was established under Societies Registration Act, 1860. It is an organizational wide initiative to connect the families of CONCOR employees, to raise their awareness level, and to work towards their social, economic and intellectual growth and development. The organization conducts various social and cultural events like festivals (Independence Day, Children's day, Diwali, etc.), health awareness programmes, cultural contests and competitions, and skill improvement programmes. The organization also has a toy center and children library at CONCOR Housing Colony Tughlakabad.