Employee Health & Wellness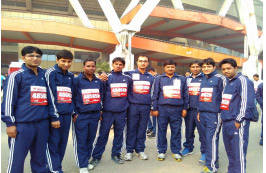 Great care is taken to provide working environment to the employees conducive to their good health. The occurrence of industrial accidents is minimal. Much care is taken to maintain safe and hygienic working climate conducive to the good health of employees.
'Quality of Work Life (QWL)' is maintained at the workplace. There are no reported cases of occupational diseases among the employees. Accident frequency has been extremely minimal in CONCOR. Extensive preventive actions are taken to prevent the occurrence of any kind of accidents in the terminal yards and office premises. Safety gadgets are provided to the employees as per requirement in a time-bound manner. CONCOR Container Terminals and office premises have been equipped to deal any kind of fire break-outs by adequate provision of Fire Extinguishers, Fire hydrants and Smoke Detectors.
CONCOR also provides adequate importance to employee fitness and sport programmes such as Cricket matches are regularly conducted for the employees. The company also provides adequate sports facilities for the employees in the office premises to rejuvenate the employees after the office hours.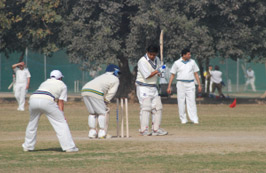 The company is a regular participant in the Airtel Half-Marathon and Great Delhi Run wherein all the employees are encouraged to participate to raise the level of employee fitness.
The company also has a policy for incentives for employees opting for small family norms in order to achieve the twin objectives of employee wellness and contribution towards national cause.
CONCOR also has recreation clubs at Tughlakabad and Dadri with the facilities of indoor games like table tennis, carom, and a library and television facility.
The company's Medical Policy is considered a benchmark for the employee welfare practices. The company has an extensive medical policy. Full reimbursement of medical expenses is made in respect of hospitalization expenses and special diseases which require prolonged treatment subject to the rates of some reputed hospitals. Free medical facilities are being provided to employees and their dependant family members as per structured company norms.
In order to cope up with the stress, all employees above the prescribed age are required to carry out compulsory medical checkup.
In order to contribute to the physical and mental well being of the employees Medical camps and tobacco cessation programmes are organized to take care of the health of the employees.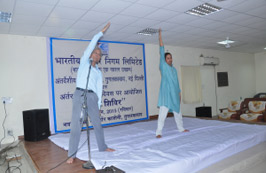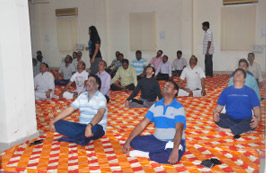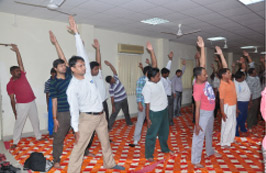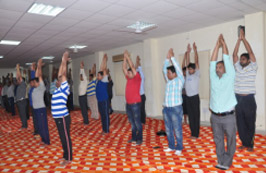 Programmes on Yoga and Meditation are regularly conducted in order to elevate the physical and mental well-being of employees. CONCOR organizes International Yoga Day every year on 21st June all over India in various offices/ terminals of CONCOR. The program conducted includes Pranayam, meditation and yoga demonstrations by professional yoga practitioners followed by workshop on the usefulness of yoga.
Apart from above, self defense workshops for women employees are conducted as an initiative towards promoting the safety of women.
CONCOR Women Welfare Organization (CWWO) promotes sports activities among women and children by conducting sports competitions for CONCOR Women employees and female members and children of employee's families. Apart from above Health Awareness programs for women employees are also organized on regular basis.