CMD's New Year Message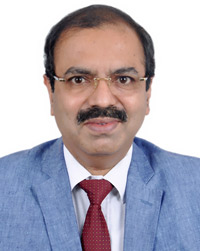 1st January 2019
Dear All,
Team CONCOR wishes you and your family members a very Happy New Year.
I am happy to share with you that your company had an eventful year 2018. Your company did very well in FY 2017-18 and is continuing the same trend in the first 6 months of FY 2018-19. The management and the entire team of your company are committed to continue the hard work and dedicated efforts to maintain this trend.
I am happy to share with you that while consolidating our market position, we have been giving utmost importance to the service aspect thereby achieving improved Customer Satisfaction levels. The provision of continuous cargo visibility is a landmark achievement in our commitment in providing 'Customer Value Creation'. Your company is taking new initiatives and entering into new areas of business. We will be starting our Coastal Shipping Services very soon. We also plan to start our fist node for Distribution Logistics in this calendar year.
I am sure that your company will progress further and will provide better Customer Service resulting in Customer Value Creation.
With best wishes,
V. Kalyana Rama
Chairman & Managing Director